Model ST-22 10/22 Receiver - Black
The ST-22 is a drop in replacement for a Ruger 10/22 Receiver. Our receiver is precision machined with an integral top rail and accepts all Ruger 10/22 accessories and magazines. The ST-22 features a fully ambidextrous T charging handle and ejection port forward assist. The receiver comes factory converted to accept TUF-22 magazines, and still functions with all Ruger 10/22 magazines. Made In Canada.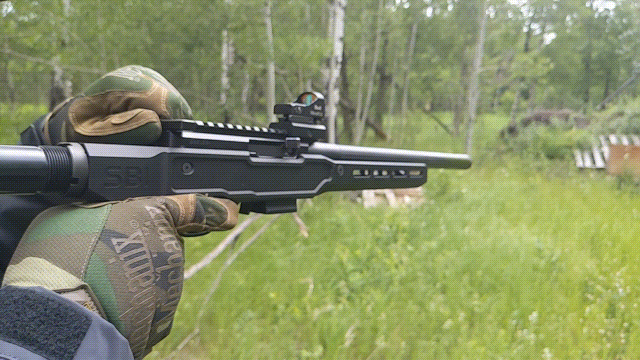 Read more
The ST-22 is an innovative high precision CNC machined from billet aluminum 10/22 pattern receiver. The receiver has an integrated mil-spec picatinny rail and is compatible with all picatinny rail optics mounts. The receiver accepts all Ruger 10/22 components and is compatible with all Ruger 10/22 stocks and barrels. With an enlarged ejection port the ST-22 offers more reliable ejection and easier cleaning. The unique and ergonomic T style charging handle offers a truly ambi solution for the 10/22 platform. 
Features: 
Ambi T style charging handle
Forward assist
Cleaning hole
Hard anodized finish
Anti-droop barrel lock screw
Lightweight billet construction
Compatible with all 10/22 barrel profiles up to 0.920" dimeter. 
Non-restricted FRT 197700
Compatible Magazines: 
All 10/22 magazines fit, function, and drop free.
Factory converted to accept TUF-22 magazines
The SBI 10/22 magazine adapter fits and functions without any issue.
Compatible Parts: 
All standard pattern 10/22 bolts. The bolt must be compatible with standard 10/22 charging handles.
All 10/22 stocks and chassis, except any stock / chassis that covers the top of the action. Incompatible stocks include, but not limited to, the SR-22 chassis, ATI AR-22 10/22 stock, and Archangel Nomad Stock.
All 10/22 triggers.
Receiver Includes: 
Stripped Non-Restricted ST-22 Receiver
ST-22 ambidextrous T charging handle
ST-22 forward assist
SBI Adjustable V-Block and action screws
Reference
SBI_ST22_REC_BK
All Prices are Canadian Dollars
Ships From Sherwood Park, AB, Canada